The Servicemembers Civil Relief Act (SCRA) provides protections to active service members so that they can focus on what matters most- serving their country. 
Due to the nature of their jobs, service members have to leave their homes when they are on active duty. It can be stressful for these individuals to focus on the work they need to accomplish while working about their family being evicted, their home being foreclosed, or worrying about their belongings being repossessed due to a failure to pay rent.
Under the SCRA, eligible service members do not have to worry about these issues, and they can focus on completing their service obligations.
Who is eligible for protection under the SCRA?
The Servicemembers Civil Relief Act is available to support active service members who are able to demonstrate that their ability to complete certain legal obligations, like paying rent, has been impacted by their service.
This could mean that due to their service, their location or income is preventing them from being able to complete these obligations.
Eligible service members include active members of any branch of the Armed Forces, Reserve personnel on active duty, or members of the National Guard when on active duty.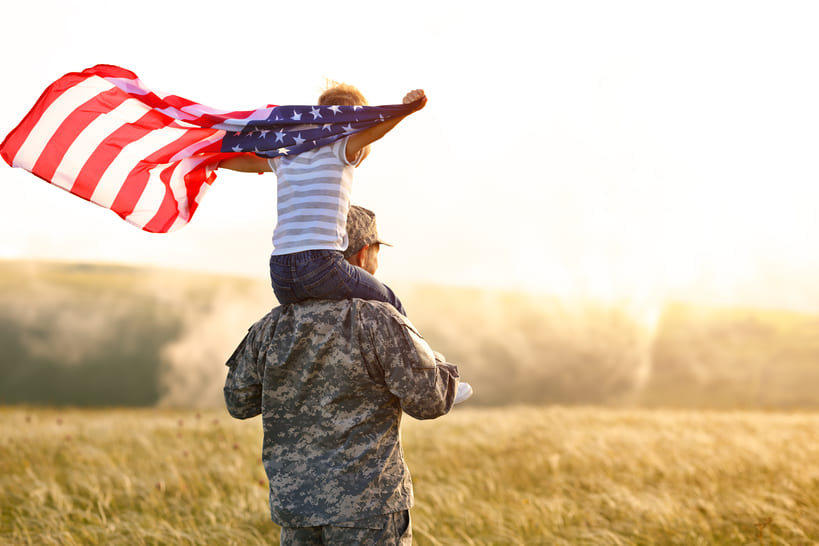 What does the SCRA mean for landlords?
If you rent your property to someone who is an active service member, they may be eligible for certain benefits and protections under the Servicemembers Civil Relief Act that are not available or necessary for other tenants.
It is critical that you are aware of these protections so that you do not violate the SCRA and cause hassle for both you and your tenant.
Here are a few things landlords need to know about the Servicemembers Civil Relief Act:
Ending a lease
The SCRA allows service members to end a lease without penalty if they are deployed for a minimum of 90 days. In order to do this, these service members must submit written notice along with a copy of their deployment orders.
After receiving notice from the tenant about terminating the lease, you are only able to charge rent for 30 days after the tenant's next rent bill is due. Say, for example, that rent is due on the first of every month. If you receive notice of lease termination on September 25th, you are able to collect rent until October 30th.
Additionally, under the SCRA, you must also return the security deposit if one was collected prior to deployment as well as any prepaid rent once you've received written notice of deployment.
While this might seem like a stressful situation, one of the best things you can do is try to make your lease "military friendly," using military clauses that will make it easier for both you and your tenant if they are to be deployed without much advance notice.
Evictions
Under the SCRA, landlords must receive a court order in order to evict service members as long as their rent is not more than $4,089.62 per month (this price will change each year in accordance with annual inflation). If necessary, the court may prevent you from evicting the tenant for three months or longer if their active duty is hindering their ability to pay rent.
Property occupation
The SCRA allows the spouses of service members to occupy the premises while their spouse is on active duty.
However, if they choose not to occupy the property during deployment, it can make your property a target for theft and vandalism. Additionally, if your property is not well-maintained while vacant, it can lead to serious and costly issues down the road.
It's important that you are able to check in on the property regularly and provide any maintenance and repairs necessary to keep the property in good condition until it is ready to be occupied again.
Renting to military personnel
While the regulations mentioned in the Servicemembers Civil Relief Act might make it seem like renting to service members will be a challenge, this could not be further from the truth.
First of all, if you work with a property management company, like RentSimple, you will be able to rely on experts to follow all of the rules and regulations regarding the SCRA.
Furthermore, service members make high-quality tenants. Few things are more rewarding than knowing that you are giving one of our nation's heroes a chance to have a safe, comforting place to call home. 
In addition to honoring their sacrifice by providing them with a great place to stay, you can also sleep easy knowing that service members tend to take care of their property and respect their living spaces. Renting to military personnel decreases the likelihood that you will have to deal with property damage or similar issues.
When you rent to service members and remain in accordance with the SCRA, you will be able to provide a service member with a great living arrangement and ensure that you will have no shortage of tenants in the future as your positive reputation spreads throughout the area.
Adhering to the SCRA with RentSimple
With its proximity to military bases and the nation's capital, Virginia is home to many active service members. One of the best ways to honor these service members and make sure you are upholding the SCRA is to make sure you provide them with the best possible rental experience. You can do this by working with a property management company like RentSimple. 
RentSimple will make sure you are in complete adherence to all laws and regulations regarding military personnel who rent your properties. This way, you don't have to worry about accidentally violating any laws or doing a disservice to your active service member renters.
When you work with RentSimple, you don't have to stress about making ends meet if your tenants are suddenly deployed without much notice. We offer guaranteed rent, making sure that you receive 100% of any rent owed regardless of the situation at hand.
RentSimple also handles all property inspections, maintenance, and repairs, so you don't have to dedicate time and energy to making sure your property is up to the standards required by law for active service members.
We will also take on the potentially challenging task of screening military renters to verify their active duty service and make sure no one is taking advantage of the benefits that should go to our hardworking service members.
We know how to offer the perfect rental rates that will provide military personnel with affordable housing while still helping you make a profit, and we will make sure you receive rent on time each month.
Renting to active service members can be a lot easier than it might seem if you work with the right property management company.Learn more about how RentSimple can make it easy for you to rent your property to military personnel when you visit our website.